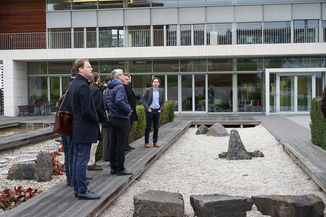 Press officer Mathias Kukla (r.) guides a group of visitors through the works premises of ELMOS AG
Source: ELMOS AG
03.12.2018
A special kind of event took place in Dortmund on November 20, 2018: twelve companies and research institutions opened their gates and doors and allowed visitors a glance at production facilities and research laboratories. A total of 40 visitors, divided into three groups, took the opportunity to take a look behind the scenes of Dortmund's micro- and nanotechnology community for an afternoon.
In a roundtable discussion following the guided tours and presentations, some of the local players revealed what drives them to work with micro- and nanotechnologies and how they envision the future. The subsequent obligatory networking event was used by hosts and guests to commence or continue individual discussions.
The event "Micro & Nanotechnology made in Dortmund" took place on the eve of the 8
th
NRW Nano-Conference at the invitation of the Economic Development Agency Dortmund, the IVAM Microtechnology Network and the TechnologieZentrumDortmund.
An overview of the tour program and the companies involved can be found on the
events page
.