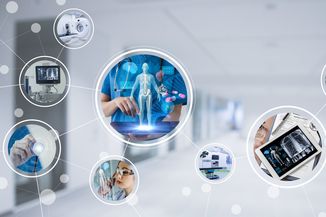 30.04.2019
At the COMPAMED Innovation Forum, leading experts present current topics in the medical device industry and discuss them with participants to identify current challenges and solutions and prepare for the upcoming COMPAMED, Europe's largest fair for suppliers of medical manufacturing.
Smart and reliable high-tech solutions for medical practice
In medical practice, increasingly powerful, smart and reliable high-tech solutions are needed. The upcoming event on July 10, 2019 at Helios Klinikum Krefeld therefore focuses on the topic aspect "High-Tech in Hospitals". This year's forum gets together manufacturers and developers of technical solutions and innovations with users to align future technical developments as closely as possible to the needs of medical specialists and caregivers.
Developments in microsystems technology enable innovative possibilities to make products even more intelligent, safe, reliable and cost-efficient.
Three sessions show needs and challenges for technologies
The conference includes 3 sessions, which show needs and challenges for technologies in hospitals as seen by the caregivers as well as technologies for innovations in hospitals as seen by developers. Furthermore, success stories for hospital routine will be presented and discussed as solutions for patients.
Further information can be found at
https://ivam.de/events/compamed_innovation_forum?lang=en
. The complete programme as well as the possibility to register will be available there shortly. Ms. Inga Goltermann can be contacted at +49 231 9742 7090 or at
go@ivam.de
for further questions on participation.