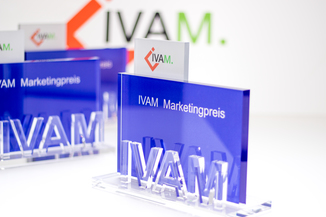 25.01.2019
The IVAM Microtechnology Network has honored companies that creatively market high-quality, high-tech components, products or services and convincingly position themselves on the market with their activities with the IVAM Marketing Prize for more than ten years.
The competition was launched in 2009 to recognize creative ideas for marketing high-tech products – in relation to company size and budget. "It's not about whether you have the most expensive, extravagant or complex marketing concept. For the IVAM Marketing Prize our expert jury decides based on quality. In other words, everyone has a chance of winning the prestigious trophy, be it start-up, SME or large company", explains Inga Goltermann, authorized signatory and the project manager responsible for the marketing prize at IVAM. "We want to give a chance to companies that have only few resources, but not exclude companies with more experience and a higher marketing budget. Our jury takes these factors into account when evaluating the concepts and deciding on the winner."
In recent years, a broad range of marketing measures and campaigns has been awarded, including single print products or giveaways, website relaunches, full trade exhibition concepts, image videos or multimedia campaigns to launch a product or establish a brand.
The competition will draw public attention to the nominees and winners. As organizer of the competition, IVAM, will increase the promotional effects using its own publication platforms, an extensive press distribution list and social media channels. The winner can also use the networking opportunities IVAM offers to connect with potential partners and customers of the high-tech industry for one year free of charge.
The awarding of the marketing prize will take place at the evening reception of the IVAM High-Tech Summit on April 4, 2019 in Dortmund, Germany. Applications are due by February 22, 2019. Conditions of participation and application documents are available via
https://www.ivam.de/marketingprize