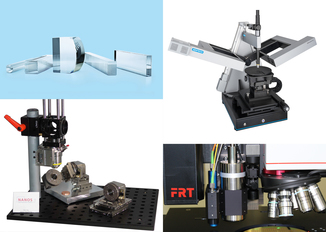 Source: FISBA AG, FRT GmbH, NANOS, SENTECH mbH
05.02.2019
From February 25-26, 2019 the W3 Fair+Convention, networking fair for optics, microtechnology and precision engineering, opens its doors for the sixth time in the optics hub of Wetzlar.
Apart from regionally-based large corporations such as Leica Microsystems, Carl Zeiss, Hexagon and Pfeiffer Vaccum, together with numerous hidden champions, there were also international key players such as Universal Photonics and Meopta on view in 2018. Over 180 exhibitors met with more then 3100 trade visitors
The IVAM Microtechnology Network will attend the W3 Fair+Convention with a joint pavilion, the special exhibition area "Microtechnologies for Optical Devices" in 2019 to show what microtechnology has to offer in and for the field of optics and photonics.
FISBA AG
presents its competence for micro-optical components and optical microsystems by showing micro-optics for imaging solutions, micro-optics for laser diodes and optical microsystems. The focus is on submillimeter lenses for imaging, high-precision FACs and SACs for diode laser integration and the FISBA RGBeam™, an adaptable and high-precision laser module.
FRT GmbH
is one of the world's leading manufacturers of 3D surface measurement technology. The high-precision measuring tools, based on the multi-sensor concept, are equipped with in-house software. FRT serves customers in the fields of optics, microelectronics and mechanics worldwide. The tools measure topography, step height, roughness, layer thickness and many other parameters contact-free and non-destructive. Point, line, area and layer thickness sensors as well as atomic force microscopy are combined in one measuring tool. The measuring ranges can vary from meter to sub-nanometer.
mechOnics ag
, founded in year 2003 in Germany, is specialized in the development, production and sales of innovative piezo drives (stick-slip motion) with very good price/performance ratio. The product range includes one axis positioners repeat abilities up to 1 nm, ultra-compact 3D positioners and compact tip/tilt mirror positioner. Also compact and very rigid positioner ML17 for ultra-low temperature use up to 4 Kelvin, battery driven controller for three axes and USB-controllers for open and closed loop operation as well as manual positioners with 8, 18 and 30 mm travel range are among the presented products.
Also customized applications and system integration are offered.
NANOS-Instruments
produces compact piezo stages with the following features: cm stroke, 10-40N force, 0,5nm noise less resolution, 1nm repeatability, driftlessness, 10nm interpolation error, jerkless movement (no slip stick).
SENTECH
offers plasma process technology and thin-film metrology systems successfully for many years. The focus is especially on the quality, flexibility and automation capability of the systems. Applications are the production and measurement of thin films and the etching of micro- and nanostructures. Users can be found in the semiconductor industry, optics, MEMS, telecommunication, sensor technology and many other areas. SENTECH offers the following technologies: reactive ion etching, plasma enhanced chemical vapor deposition, atomic layer deposition, ellipsometry and reflectometry.
24IP Law Group
, a partner for innovative companies, inventors and creatives, offers comprehensive services and goal-oriented advice in intellectual property law. The quality of work, the efficacy and dedication to the interests of the clients are the main focus. "It's not about being right, but about achieving commercial success for you company."