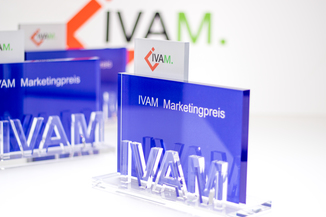 12.03.2018
The IVAM Marketing Prize awards creative concepts and innovative ideas in the area of technology marketing. The jury, consisting of experts in the fields of microtechnology and marketing, nominated four finalists. In total, nine international high-tech companies submitted their impressive marketing measures and single concepts from all areas of marketing communication for the competition. The rating criteria were e.g. creativity, innovation, aesthetics, strategic and technical approach, informative content, current relevance and target-group-orientation.  
The winner will be announced on April 19, 2018 subsequent to the IVAM High-Tech Summit at the Lensing-Carrée Conference Center in Dortmund.  
The
eagleyard Photonics GmbH
in Berlin develops, produces and sells high-power semiconductor laser diodes. Eagleyard applied with a campagne that was implemented at the Laser World of Photonics 2017 in Munich. One focus of the marketing activities was to cluster the product portfolio into product families and to transfer this product family order from a two-dimensional graphic into a third dimensional trade fair booth. This has been implemented e.g. through product pylons and a virtual coordinate system at the exhibition booth as well as numerous giveaways inspired by the topic.  
The
FRT GmbH
in Bergisch Gladbach offers 3D surface measurement technology from research to production control. FRT submitted the comprehensive relaunch concept "FRT RelaunchYear", which included a redesign and a new concept of the website logo and trade fair booth. The extended online marketing strategy introduced special hashtags, a company blog and a mascot.  
SmartMembranes GmbH
in Halle (Saale) is the world's leading manufacturer of porous, highly graded materials made of aluminum oxide and silicon with defined membrane properties and structural parameters. The young company faced the challenge of introducing a new product on the market with limited marketing budget and limited human resources. As part of a comprehensive strategic analysis, a marketing and sales concept was developed by identifying and prioritizing target markets and customers based on global megatrends.  
The
Turck duotec GmbH
in Halver, an independent company of the Turck Group, is an expert for developing and manufacturing customized electronics. For the Compamed 2017 trade fair, Turck duotec had developed an experimental demonstrator, which presented Turck duotec's possibilities in development and production in a practical and entertaining way - in this case with the temperature measurement in a spoon by stirring coffee for customers at the exhibition booth.